Smart Home Automation
---
Control shades, lights, thermostats, and more with a touch.
How Smart Home Automation Makes Life Better
Press a button on your app to be in total control of your home, even when you're far away. Smart home automation controls an array of systems: heating and air conditioning, automated window shades, security, lighting, intercom, security cameras, irrigation, your whole house music system, and more.
You use one simple app or keypads from Crestron or Elan, two of the most trusted names in home automation, to make life easy. You can choose a lighting preset for a party or intimate dinner, warm up the spa for a relaxing evening before you leave work, see in real time if your guests have arrived, or control your whole house music system or home theater.
Press one button on your keypad or smart phone app and the system comes to life. Goodnight closes all the homes' automated shades, turns off all lights except the soft lighting on the floor, and activates the security alarm. You can automate the security system to arm every night, set lights to turn on even while you're away, and get security alerts on your mobile phone. See how we can help integrate smart home automation into your life.
What Will a Smart Home Control?
Check Security Cameras from Bed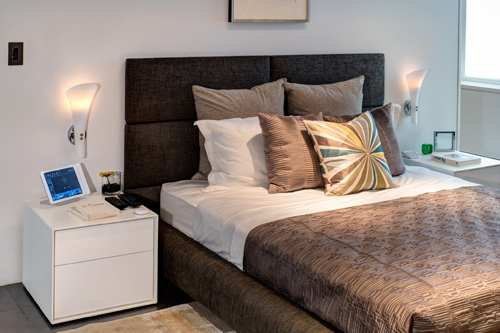 Control Your TV, Speakers, and More